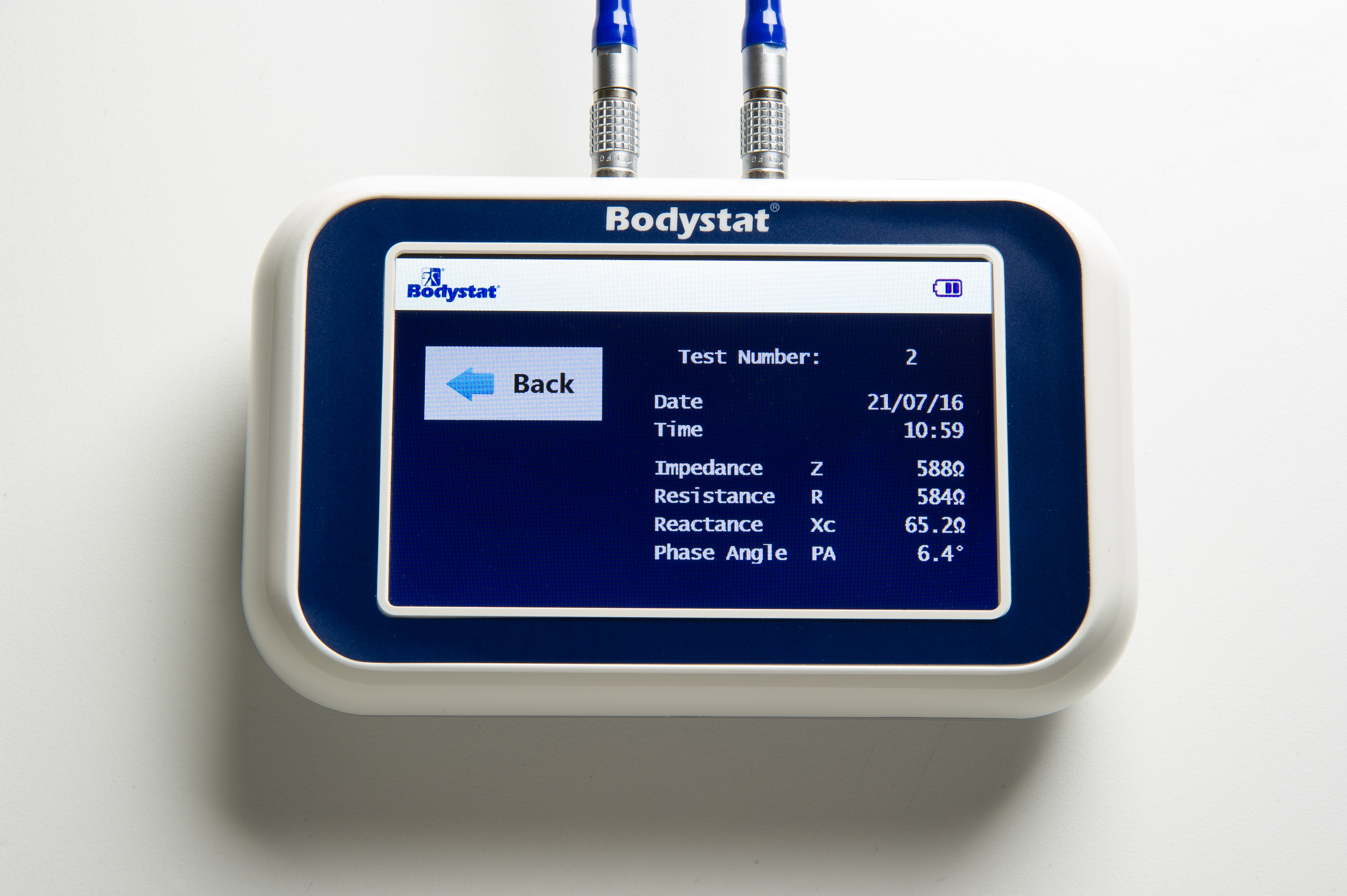 Use of the Bodystat 500
The Bodystat 500 uses 4 electrodes to measure raw data at any segment of
the body. This is independent to age, gender, height and weight, and
therefore no input data is required. The measurement takes a second and
results are available on screen.
DOWNLOAD BROCHURE: ENGLISH
Bodystat 500
The Bodystat 500 is a pocket size touch screen device measuring only raw data.
Optional software is available in English.


MEASUREMENTS AT 50kHz:
Impedance
Resistance
Reactance
Phase Angle
Raw data measurements can be added to validated published equations to calculate fat free mass, body fat and hydration.
The Bodystat 500 uses Bodystat long electrodes 0525.
PRODUCT FEATURES


Features of all Bodystat products
Lightweight, hand-held portable device
Four electrode (tetra-polar) measurements, patient/client lying down ideally
Colour touch screen display to view data
Non-invasive, safe to use
No maintenance required
No specialist skills or training required
Results available in seconds on display screen
No computer requirement to view data – but optional Windows software available to plot results available in multi-language
Subject data recall for up to 100 tests
Accepts metric or imperial units
Calibrator for self-testing hardware
All results show recommended ranges
Low battery alarm system
12 month parts and labour warranty on a return to factory basis
Quality Clearance: CE 1639 Medical Devices Directive and FDA
ISO 13485 company accreditation
Proven revenue generator for fitness centres and personal trainers
Increased gym member usage and referrals
Medically proven whole body composition analysis and core cellular health measurement
Additional insightful information to 'Body Mass Index' (BMI)
Essential motivational tool especially for weight loss programs
Accurate tracking of changes in Body Fat, Lean Muscle Mass & Hydration
Fast, reliable, cost-effective, reproducible results
Trend graphs (with additional software programs) available for quick evaluation for remedial action
Cardiac Risk Analysis (included in software)
Unique Wellness MarkerTM (Impedance Ratio) overall health assessment irrespective of age, weight, population group (available in the Bodystat 1500MDD device only)
Unique Prediction MarkerTM (Impedance Ratio) to assess fluid shifts intra- and extracellularly, including use as an additional marker for outcome, without the requirement for weight, height, age or gender (available in the Quadscan 4000 and Multiscan 5000 devices only)
Portability allows use in many different locations
Non-invasive assessment of hydration, nutrition status and Lean Muscle Mass
Track potential risk of lymphoedema in post-operative patients (Quadscan 4000, Multiscan 5000)
Determine if weight gain is due to increase in Lean Body Mass or fluid retention
Test can be performed at the bedside, versus other more cumbersome and expensive methods
Quick corrective action can be taken to improve the health of the patient
Ease of use allows for regular monitoring of status as frequently as required (minutes, hours, days, etc)
Number of measurement parameters can be selected to meet specific needs
Automatic selection of equations for Children or Adults, depending on age entered (not available in the Bodystat 1500 hardware)
Exact time of measurements recorded by Real Time Clock (not available in the Bodystat 1500 hardware)
Measurement takes 1 second with instant results on colour touch screen